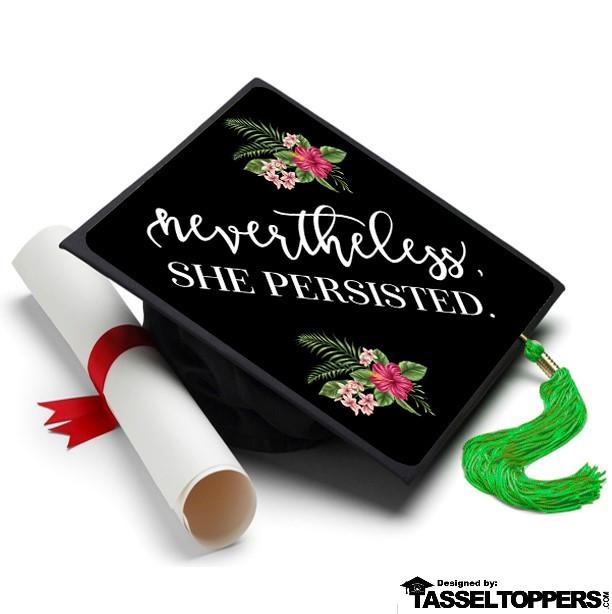 You'll find hundreds of DIY grad cap tutorials online but rarely will you find a tutorial on what to do with your masterpiece after the ceremony. Sure, you'll toss it up in the air and have it sitting out on your dresser for a couple of weeks but after that, you'll likely stuff it in your closet and it'll never been seen again.
However, you spent all that time decorating your grad cap; it deserves to be treasured for many years to come. That's also not to mention that when you design a graduation cap with Tassel Toppers, it's crafted with durable plastic to ensure that it can withstand many things after being thrown in the air.
So, here are some unique ways to use your custom grad cap as a decoration after the big day.
Twilight Knows Best
While the days of the Twilight films are long behind us, if there's anything they got right it's how they kept the abundance of grad caps they've collected over the years. Chances are, you only have one – maybe three depending on your educational career. Put them together in a frame or shadow box and display your accomplishments for everyone to enjoy.
 This is an amazing tutorial on how to use your DIY graduation cap after the big day.  Sure, it uses a "fake" graduation cap but who's to say that you can't use your custom grad cap instead? Plus, this grad cap idea would make for an awesome décor piece in your future office!
This graduation cap craft is similar to the Twilight idea, only it uses different decorations to truly turn the grad cap shadow box into the ultimate piece of décor. It's an excellent way to save, store and display your custom grad cap design while also celebrating your accomplishments. Plus, these shadow boxes look amazing and will look even better hanging next to your diploma.
Graduation Cap Craft Shadow Box
Here is another grad cap shadow box tutorial video that has an entirely different style than the previous one. It also lists the exact materials you'll need to create this DIY grad cap idea and shows you the steps to take to keep your graduation cap as a souvenir.
Use an Easel to Display Your Graduation Cap
If none of these ideas float your boat, stick with the basics. Graduation Cap easels do everything you want them to do, without all the glitter and gloss. 
Now, if you plan on using your DIY custom graduation cap as a decoration for the years to come, it's imperative that you take the right steps to ensure your grad cap will keep.
*Spoiler Alert* - not all custom grad caps are created equal. 
At Tassel Toppers, we create your custom design with durable plastic so that it will not deteriorate over the years. It's also waterproof, so no worries there either. So, head on over to Tassel Toppers and laminate your custom grad cap before it's too late.